Regular residential pressure washing in Sarasota is vital for maintaining the overall condition of your home and exterior concrete and other such surfaces and materials. Layers of dirt and debris are not only unsightly but those residues lead to water stains, mold growth, and other damage.
Before scheduling exterior house washing in Sarasota or any other such service, you might wonder the difference between power and pressure washing, and which of those you can manage on your own! Consider some vital information about residential pressure washing in Sarasota, how it's different than power washing, why a soft wash system might be recommended for your home, and why it's best to leave this work to the pros!
Power Washing versus Residential Pressure Washing in Sarasota
By way of quick explanation, residential pressure washing services in Sarasota use water delivered at an increased pressure. Power washing refers to pressure washing with hot water rather than cold or lukewarm water.
Pressure washing is an excellent choice for virtually any surface around your property, including wood decks and fences, concrete, exterior glass, and exterior walls. Power washing is reserved for removing oily and greasy residues; hot water dissolves oil and grease quickly and easily, so garage floors, driveways, and other such surfaces might require power washing.
While power washing makes quick work of dissolving greasy and oily residues, both hot water and increased pressure also risk damage to painted concrete, asphalt aggregate, and other materials. In many cases, it might be recommended that you opt for soft wash systems in Sarasota.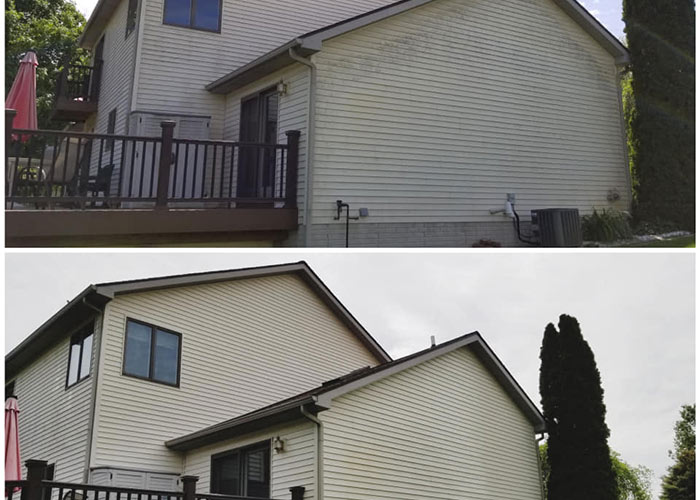 What Is a Soft Wash System for Sarasota Properties?
A soft wash pressure washing for Sarasota homes starts with specialty detergents or surfactants, designed to dissolve thick dirt, mud, oil, and other residues. These detergents also seep into all the nooks and crannies around building materials such as wood decks, concrete and stone pavers, and roofing shingles.
Soft wash systems end with a low-pressure rinse, typically just a bit more pressure than a garden hose. This low pressure rinse is often recommended for roofs, wood surfaces, glass, and other such surfaces, as it reduces the risk of blowing shingles off a home, etching and chipping wood decks and fences, or outright shattering glass!
Why a Roof Wash in Sarasota Is So Vital!
While it's recommended that a homeowner schedule regular exterior house washing as needed, roof washing in Sarasota is even more vital than washing exterior walls and other surfaces! One reason for this is that storm debris as well as debris falling from nearby trees lodges itself between shingles and other materials, loosening them and increasing the risk of losing them in a strong storm.
Roof washing in Sarasota also removes growing mold, moss, and algae, all of which are very common in the state of Florida. Humid weather and lots of rain in the summertime encourage unhealthy mold growth, while algae eats away at roofing shingles, also loosening them.
Airborne sand, silt, and other debris coming in from the coast also tend to settle on nearby homes, creating an unsightly appearance while also increasing the risk of dislodging shingles and other materials. A thorough soft wash roof cleaning of a Sarasota home removes all that debris, for a cleaner appearance and less risk of damage.
Can You Damage Concrete With Power Washing?
In short, you can definitely damage concrete with power washing! High pressure washing a Sarasota property often leaves behind streaks and swirl marks even on concrete and exterior stone. Chips, cracks, and other damage might become worse with high pressure washing.
Driveway power washing in Sarasota can also strip paint and other coatings, leaving behind an unsightly mess and exposing concrete to future damage. Soft wash systems are a better solution for concrete surfaces around your property, and specialty brushes also make quick work of scrubbing away stains and ground-in dirt, such as on an exterior patio or walkways.
It's also vital to note that you can damage wood surfaces with a power washer very easily; wood often shows streaks and etches and might even chip and crack or split apart with low-quality power washing services. Soft wash systems for Sarasota homes are also recommended for decks, fences, and other such surfaces.
Can You DIY Pressure Washing in Sarasota?
While pressure washing a Sarasota home is important for its overall condition and appearance, this is not a DIY job! Controlling a pressure washing wand is often more difficult than homeowners realize, and high-pressure water and especially hot water splatter is dangerous.
Pressure washing a Sarasota property also requires skill and knowhow. For example, exterior house washing in Sarasota starts from the bottom and goes up for washing; this helps loosen layers of dirt and caked-on mud. Starting from the top and going down can leave behind lots of dirt and grime!
It's also vital that a pressure washing contractor in Sarasota use the right cleansers for various surfaces and work fast enough so that detergents don't dry against wood, glass, and other such materials. Leaving behind dried detergents results in a streaky mess and the attraction of more dirt and grime than before. To ensure this job gets done right, leave power washing in Sarasota to the pros.
How Often Should You Choose Exterior House Washing in Sarasota?
A pressure washing contractor in Sarasota can alert you to a good schedule for roof washing, driveway cleaning, and other services. However, note that Florida's stormy seasons tend to deposit lots of sand and silt onto a Sarasota home and especially its roof, so you might need power washing services more often than average.
It's also good to schedule exterior house washing and all other residential pressure washing in Sarasota if you cook outside and produce lots of smoke that settles onto a home or driveway, if there are lots of trees on your property that drop twigs, moss, and other debris onto the roof, or need more regular cleaning for any reason. Scheduling power washing in Sarasota as needed ensures your home is protected from damage and always looking its best.