Many homeowners and commercial property owners are searching for eco-friendly roof cleaning in Sarasota, FL, to lessen their impact on the environment while still keeping homes and businesses looking their best! The good news is that property owners have a few choices for roof cleaning and exterior house washing that are less damaging and wasteful than standard power washing.
To ensure you're keeping your property clean and pristine and in good condition, check out some suggestions for eco-friendly roof cleaning. You might also note a few tips on keeping that roof clean throughout the year, so you need to schedule roof washing less often overall!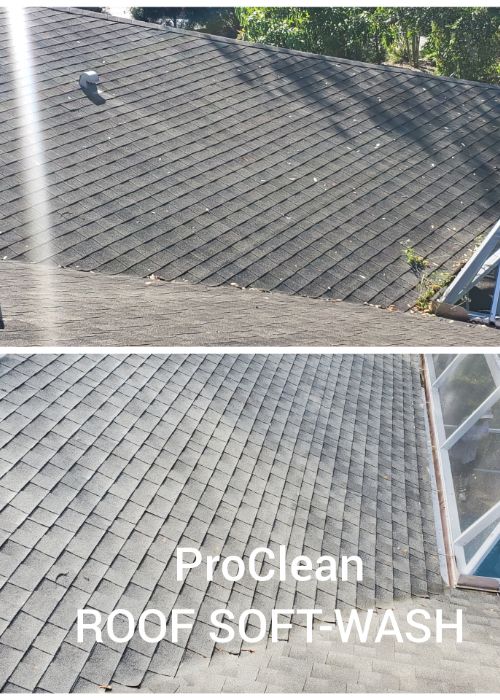 Cleansers for Eco-Friendly Roof Cleaning in Sarasota
Eco-friendly exterior property washing starts with the right cleansers! Oxygenated bleach is safe for your property, using oxygen to break down mold, moss, dirt, algae, mud, dust, soot, and other debris. Some bleach-based cleaners are so effective that you don't even need to rinse them; you simply apply the cleaner and it kills growing residue while washing away dirt as it dries!
Simple Green is also a very eco-friendly cleanser designed for a number of materials and surfaces, including roofs. Simple Green is made from biodegradable alcohol ethoxylate, water, and sodium citrate. You can spray Simple Green on your roof and then scrub away dirt and grime, and give it a quick rinse to get it clean.
Roof Brushing for Safe, Effective Cleaning
As with sweeping your home's floors, sweeping or brushing your structure's roof can mean an improved appearance instantly, without any chemicals or cleansers! Invest in a telescopic, soft-bristled brush designed for roof cleaning and use it regularly throughout the year. Not only will your structure look cleaner but this helps avoid sand, silt, and other gritty debris working its way through shingles and tiles, reducing the risk of roof damage.
Roof brushing can also be used with gentle cleansers designed to dissolve dirt, sand, and other grime from a roof. Mix a small amount of liquid oxygenated bleach in a gallon of water and use a standard paint roller to roll this onto the roof, and then brush it off after it dries. This mixture helps dissolve dirt and grime without having to overuse cleansers and chemicals.
Why Choose Soft Wash for Eco-Friendly Roof Cleaning in Sarasota
Soft wash pressure washing is an excellent choice for eco-friendly roof cleaning in Sarasota. This is because soft wash cleaning starts with specialty cleaners that work to dissolve even the thickest dirt and grime. Once dissolved, a power washing contractor only needs low-pressure rinsing, usually only a bit stronger than a garden hose, to remove that dirt and debris.
Since soft wash systems don't rely on using copious amounts of water for cleaning and rinsing, this makes them an excellent, eco-friendly choice for roof washing and exterior wall washing. You use less fresh water when you choose a soft wash cleaning for your home or business!
How to Keep a Roof Clean Throughout the Year
Keeping a roof clean throughout the year means less need for power washing; in turn, you'll use less cleanser and fresh water! Along with regular brushing, trim back overhanging tree branches, as these drop leaves, seeds, twigs, moss, and other debris onto a roof. The fewer branches hanging over a roof, the less debris that will need cleaning.
While you might not associate clean and clog-free gutters with a clean roof, note that clogged gutters often result in standing rainwater. Standing rainwater increases the risk of mold, moss, mildew, and algae growing along roof eaves and edges; these contaminants then grow and spread, and will need eventual power washing to remove.
Investing in gutter guards can mean fewer clogs; these screens sit on top of gutters, blocking leaves and other debris and keeping those gutters clean. You might also invest in a few tools designed for gutter cleaning, such as brushes and vacuum attachments meant for garden hoses, leaf blowers, and other tools. The easier you make gutter cleaning, the more likely it is that you'll take care of this chore throughout the year, and the less risk of seeing mold and algae growing along your home's roof!
ProClean Power Washing Sarasota is proud to offer this information to our readers and we hope it helped explain your options for eco-friendly roof cleaning in Sarasota. If you need expert power washing including roof washing, exterior wall washing, gutter cleaning, or pool deck cleaning, turn to our trusted Sarasota power washing contractors! We offer FREE quotes and guaranteed services, as well as convenient appointment times. To find out more, give us a call today.