Paver cleaning and sealing for a Sarasota property is an excellent choice for keeping your patio, driveway, and walkways looking their best throughout the years. Cleaning is especially vital for pool decks and properties nearest the coast, as pits and pores along stone surfaces trap and lock airborne sand and other gritty debris.
If you've never schedule paver cleaning and sealing for a Sarasota property, you might wonder if this service damages stone somehow and if it's truly beneficial for those materials. Before you go another season without scheduling this and other needed pressure washing services for a Sarasota property, check out these top 5 questions you might have paver cleaning and sealing.
Is Sarasota Paver Cleaning and Sealing a Good Idea?
Some homeowners mistakenly assume that power washing or other such cleaning is harsh on patio pavers. However, this is typically true only for DIY cleaning! A homeowner with a rented power washer might use too much pressure or the wrong equipment and wind up etching and scratching stone or even breaking brittle outdoor tiles!
Professional pressure washing contractors in Sarasota know the best tools and methods for proper paver cleaning. Commercial-grade surfactants also seep into paver pits and pores, dissolving thick dirt and sand. Sealing provides an added barrier against dirt and future damage, keeping pavers looking their best.
Professional sealing also helps cover joints, or those gaps between stone pavers. Those gaps allow pavers to expand and contract as they absorb moisture and the dry out but they're also notorious for allowing weed growth! Sealing helps to cover those gaps and choke weeds before they develop and push through the soil.
Can You DIY Paver Cleaning and Sealing in Sarasota?
It's never recommended that a homeowner attempt DIY pressure washing in Sarasota no matter the surface needing cleaning, including patio pavers! Improper power washing techniques often etch and scratch paver stones as well as exterior window glass, brick, siding, and other such surfaces.
Power washing is also much messier than homeowners might realize and especially when cleaning patio pavers. It's easy to kick up lots of muddy dirt while pressure washing, and even cut right through your beautiful landscaping features! To ensure a thorough clean without property damage, leave this work to a pressure washing contractor in Sarasota.
How Often Should You Schedule Paver Cleaning and Sealing?
Most homeowners find that annual paver cleaning and sealing for a Sarasota property is sufficient, but your home might need cleaning more often if you tend to entertain often. The more foot traffic over those beautiful paver stones, the more dirt, sand, and other grime that gets pushed and locked into their pits and pores.
Properties closer to the coast might also get dirtier faster than other areas. Airborne sand and silt as well as soot from boat traffic often settle onto patio pavers. Twice-yearly cleaning keeps those exterior surfaces clean and pristine and looking their best.
How Much Should Sarasota Paver Cleaning and Sealing Cost?
Most Sarasota pressure washing contractors charge by the square foot rather than hourly, so you know they won't delay their work just to charge customers more! Some might offer a flat fee for a certain job, based on square footage, levels of dirt needing cleaning, ease of accessibility, and other such factors. On average, a homeowner might pay between $50 and $150 for paver cleaning and sealing in Sarasota, although these costs vary greatly from property to property.
How Long Does Sarasota Paver Cleaning and Sealing Take?
As with expected costs, the time it takes to clean and seal your property's pavers will depend on their overall size and square footage, levels of dirt needing cleaning, and if your pressure washing contractor can access the area easily or needs added time to get their equipment where needed. Most patios might take 30 minutes to an hour to clean, while larger properties might require several hours for a thorough cleaning.
If you're concerned about time needed on your property, ask your Sarasota pressure washing contractor to note expected completion or job times on their estimate and if you can walk on those pavers the same day or should let that sealing set for some time after their work.
Other Sarasota Power Washing Services to Schedule!
An excellent way to maintain your property and protect your home and outside surfaces from damage is with regular Sarasota power washing services. Pressure washing removes damaging dirt, grime, mud, and other debris from exterior walls and windows as well as caustic residues from rooftops and concrete.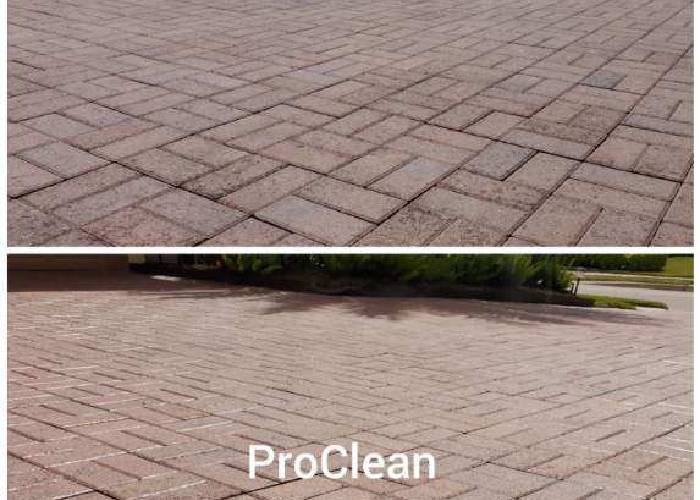 If you've been putting off power washing services for a Sarasota home, note some specific services to consider and why they're so advantageous:
Mud, dirt, grass clippings, mold, and other residues clinging to a home's exterior are not just unsightly; damp debris allows brick to absorb moisture, softening over the years. Those debris also hold caustic lawn care chemicals and air pollution residues, all of which damage brick, siding, and other building materials.
The longer you put off residential pressure washing for a Sarasota home, the more likely it is that dirt and grime will leave behind unsightly stains! You might even notice homes with grass stains, water marks, and other unsightly streaks, typically due to neglecting regular exterior house washing.
Roof power washing cleans away damaging storm debris including gritty sand and silt. Roof washing in Sarasota also reveals areas needing repairs so you can schedule that work quickly, before that damage gets more extensive and costly!
Pool deck cleaning in Sarasota is especially vital, as airborne chlorine residues and other such chemicals settle onto decks, drying out wood and concrete. Regular pressure washing also removes slick moss, mildew, and gritty debris, creating a safer surface for foot traffic.
Gutter cleaning removes thick dirt and mud as well as storm residues from gutter and downspouts, helping to reduce clogs. Clogged gutters allow rainwater to splash over their sides, increasing the risk of water damage along a home's exterior, and encourages mold and algae growth.
Consider these services when scheduling paver cleaning and sealing in Sarasota. Your home and entire property will then look clean and pristine and be protected from damage, while you enjoy improved outdoor air quality and a gorgeous home and yard!